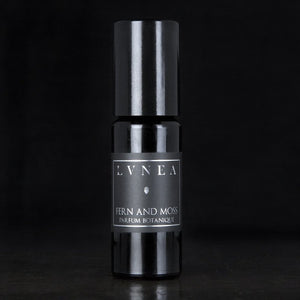 Unisex Botanical Perfume Oil - Fern & Moss
Pockmarked Ocher Halo
Sits above the greenery
The roots below, coarse and ramshackle
Tender sweet machines
//
Manual
Roll a small amount onto pulse points and air dry.

//
Ratings and Aspects
Notes of lavender flowers, crushed basil, sparkling pink grapefruit and green herbs on a base of vetiver, oak moss and tonka bean.
Green, fresh, citrus, herbal aspects.
Natural and Botanical
//
Ingredients
A blend of essential oils, natural plant extracts, coconut oil.
//
Format
A beautiful 10mL black glass bottle with a crystal ball inside a matte black tube.