SUTTON POSTER, GIRLS CAMP ANNEX - CATHERINE HÉLIE-HARVEY
SUTTON POSTER, GIRLS CAMP ANNEX - CATHERINE HÉLIE-HARVEY


Reproduction of an original work by Catherine Hélie-Harvey made with acrylic ink and gouache on 100% cotton paper.
The print is hand signed, numbered and titled on the reverse.
Made and printed in Montreal. Limited quantity of reproductions.
//
Techniques

Archival quality inkjet print - pigment ink - on 100% cotton Moab 190gsm paper - acid free, matte paper.
//

Sizes
11x14'' including a margin to facilitate framing.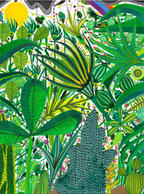 SUTTON POSTER, GIRLS CAMP ANNEX - CATHERINE HÉLIE-HARVEY